Womens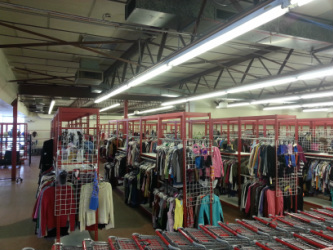 We have a large selection of clothing to choose from. Blouses, T-shirts, jackets, pants, skirts, dresses, even bathing suits in a variety of colors and styles can be found every day of the week. Our merchandise changes daily so there are always new outfits to try on in our convenient fitting rooms.



---
Mens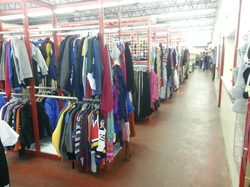 Our Mens' department carries a full line of clothing in every size and color. We even carry coats and sweaters and swimsuits, too!
---
Children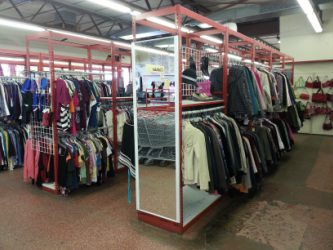 Our Kids departments are full of all sorts of clothing for the Fashionista to the kid who doesn't mind wearing the same outfit every day of the week! Our Infant's department is filled with everything a new and a growing baby needs for any type of weather at a fraction of the cost!
---
Miscellaneous Household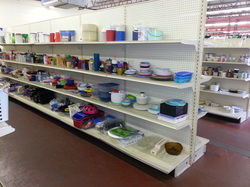 We have everything you need to completely
redecorate a room or your entire home: dressers, beds, living room and dining room furniture. We even have a few pieces we are not quite sure what they are. We have lamps and small appliances too. Our shelves contain every sort of knick-knack and new fangled what-cha-ma-call-it for the kitchen. You have to see it to believe it!

---
Toys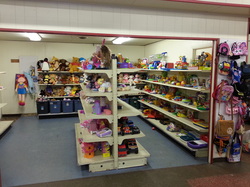 Don't forget the kids! We have a Kid's Corner full of toys and games. We also have a variety of stuffed animals and other kid's toys too. At our prices, you can afford to get them a little something to occupy them so you can settle down with that book you have been meaning to read or watch that favorite TV show.

---
Accessories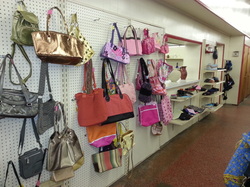 What about that all important handbag? We have clutches, shoulder bags, totes, backpacks and everything in between. Plus, no outfit is complete without the right jewelry.
We have a great selection behind the front counter. Don't forget to check it out! There are other nice items back there too. Just ask an associate who will be more than happy to help you. Don't forget shoes! We have flats,
slippers, pumps, athletic shoes, and some very
interesting ones you would need to see to believe!
---